This special offer expires in...
According to the Alzheimer's Association…
Memory Loss Is NOT A Natural Part of Aging!" 1
See, after closely studying thousands of memory loss cases, researchers discovered…
Cognitive decline is NOT from "Deterministic genes" (these are harmful genes that disrupt the body)…2
And it's not because the brain becomes old or "worn-out"...
(Most elderly people have a normal functioning brain, despite occasionally forgetting someone's name).3
So if it's NOT aging or faulty genes causing cognitive decline…
What IS Slowing The Brain Down?
The brain needs THREE things to perform it's best…
Oxygen - To energize cells like caffeine…
Nutrients - To repair weak nerve cells…
And a SHIELD - To protect against oxidative stress.
But there's the problem…
While oxygen and nutrients are abundant...
The "Shield" has a Weakness
Poor diet, air pollution, chemicals, and many other environmental factors punch holes in it, like swiss cheese.
And when this shield becomes full of holes...
Free radicals can squeeze through and prance around like hooligans…
Destroying everything in their path (also called oxidative stress).
Unfortunately, when nerve cells are damaged from oxidative stress…
THIS equals slower cognition, brain fog, and unwanted "senior moments."4
NOT AGING!
Fortunately, scientists now have a proven method...
For rounding up looting free radicals BEFORE they can wreak havoc on innocent nerve cells...
Ready to Stop Worrying About Brain Fog... Embarrassing "Senior Moments"... And Slow Cognition?
Because right now -- after delays in the supply chain… And after selling out on numerous occasions...
The Vital Reaction Mini Hydrogen Inhaler is back in stock.
New Column
People are shocked this portable hydrogen inhaler…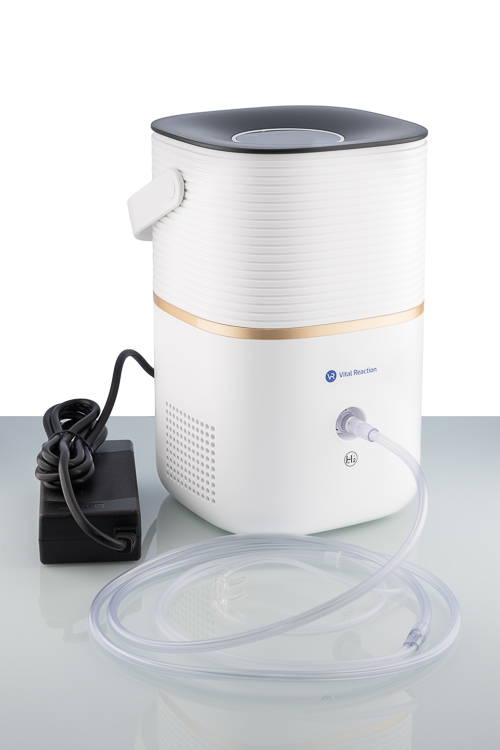 Produces therapeutic-grade molecular hydrogen in seconds




Kills only the most damaging free radicals



Lowers oxidative stress without handfuls of pills




Activates the body's internal antioxidant system
Lasts all day on a single charge
This little handheld GIANT is so popular...
Our first shipment of 50 mini hydrogen inhalers flew out the door in 45 days.
The second shipment lasted less than 30 days.
And every time we get a new pallet; we've been selling out almost immediately...
With many customers buying 2 or 3 at a pop!
That's why each day, we monitor the flow of orders for our mini hydrogen inhalers like a hawk.
A sudden uptick in sales can send us into backorder.
And we'd rather walk over broken glass - without shoes - than turn someone away in need.
Especially wellness professionals, like Susan, who are busy optimizing their mind and body to better help the thousands of people they work with…
New Column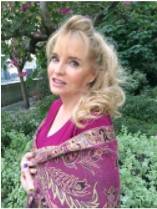 "I use the 7% Inhaler or the MINI Portable everyday unless I'm traveling by air, and then I also supplement the Inhaler with the H2 Tablets daily, too, and I always take them with me any time I'm away from home or my office. I wouldn't be without my H2 MINI and 7% Inhalers that I use every day." - Susan Smith Jones, PhD.
But Here's What Surprised Us the Most...
Getting a new shipment of mini hydrogen inhalers from our manufacturer isn't as easy as picking up the phone.
It literally takes 3 to 4 months from the moment we place an order until we receive the new shrink-wrapped pallet on our shipping dock.
Add in the time it takes to test every unit by hand to ensure it works properly.
And it's easy to see how…
It Can Take Months To Build Up A Safety Cushion Of Stock
(Which has been a challenge with the current demand.)
Fortunately, this page means we can guarantee any orders we receive…
But only the orders we receive today.
So if you missed out in the past, now's your chance to avoid getting left out.
But it comes with a few strings attached…
Our latest shipment of mini hydrogen inhalers has the latest in cutting-edge medical technology.
So not only is this model lighter (only 4.8 pounds)…
More powerful (One charge lasts all day)…
And more reliable than our previous machine (drop-tested).
It produces a therapeutic dose of 99.9996% pure molecular hydrogen in seconds… with almost ZERO maintenance.
Bottom line…
Our Current Supply Won't Last Long!
Because when the right crowd catches wind of the upgraded features… AND connect the dots between molecular hydrogen and optimal brain health…
Then add on FREE shipping…
There's going to be a SURGE of fanatic buyers for our mini hydrogen inhalers.
And whether we like it or not, as more studies on molecular hydrogen flood in…
People are going to want easy access to the benefits this breakthrough medical gas has to offer...
Molecular Hydrogen:
The NEW Alternative For Optimal Brain Health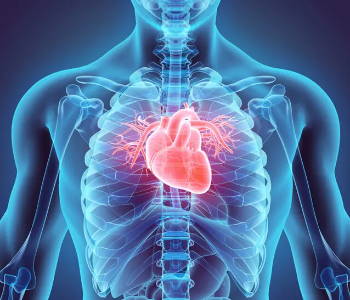 Molecular hydrogen is a medical gas containing molecules so small…
They can literally penetrate any cell in the body (including the impenetrable blood-brain barrier).
This is what makes molecular hydrogen... The most effective antioxidant on the planet.
See, unlike traditional antioxidants like Vitamin C (which do not cross the blood-brain barrier)…
Molecular hydrogen is what's known as a SELECTIVE antioxidant!5
And what makes hydrogen so unique (and why new studies keep popping up) is how it crosses the blood-brain barrier and eliminates free radicals...
Destroy The RIGHT Free Radicals and Pump The Brakes On Cognitive Decline!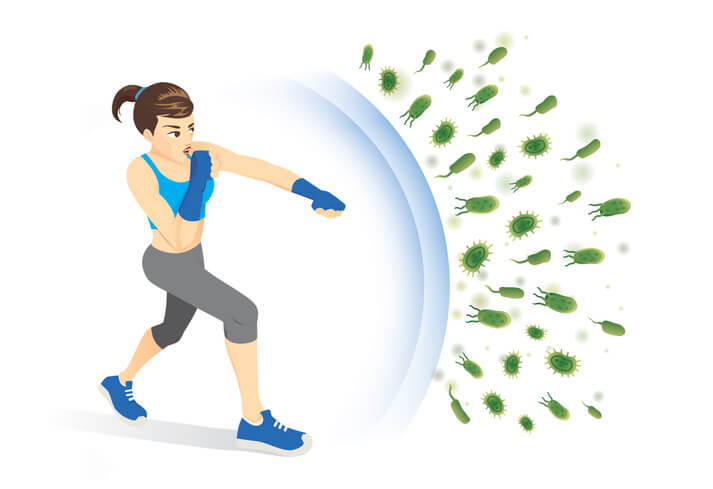 Molecular hydrogen does NOT destroy all free radicals, like most antioxidants.
(Eliminating all free radicals actually increases oxidative stress by keeping the body's antioxidant system turned off.)
Instead, hydrogen leaves healthy free radicals untouched…
Yet destroys the WORST of the bunch, which are Hydroxyl and Peroxynitrite (These rips nerve cells to pieces even in small quantities)...6
And this helps FLIP ON the body's antioxidant system (NRF-2) which quiets oxidative stress like water on a fire.78
Consistently using molecular hydrogen has been shown to support optimal brain health by...
Helping lower the oxidative stress magnets called dopaminergic neurons by as much as 83%...9
Helping to protect the brain from cognitive decline...10
Helping the body maintain optimal nerve health...11
Lowering oxidative stress in the brain...12
Lowering anxiety and enhancing bad moods in as little as 4 weeks...13
Even preventing accidental hangovers and improving jet lag…1415
But accessing the full potential of molecular hydrogen isn't easy.
It requires fully saturating the body with hydrogen.
Unfortunately, not all systems produce the right volume of hydrogen... in the right concentration.
That's why…
When it Comes Hydrogen Inhalation, Choose Wisely
Let's be honest…
Cheap hydrogen-producing products are abundant.
But let me warn you...
If you purchase a hydrogen-producing device with technology that sparks the wrong molecular reaction.
The end product IS NOT rejuvenating hydrogen gas.
It's chlorine gas (the same found in pool water) which is NOT healthy for the body.
So the specific technology is critical for creating high-quality molecular hydrogen.
Most important, the machine needs to work flawlessly every single time like clockwork…
And it must be easy for anyone to use day or night.
The answer is saturating the body with molecular hydrogen with a portable hydrogen mini inhaler.
Imagine letting go of the worry of what will happen if mental decline worsens with age.
Don't be at the mercy of poor brain health from oxidative stress.
Take action now to protect the brain against radical damage and oxidative stress.
This is why we're so excited to announce…
The UPDATED & Improved Vital Reaction
Mini Hydrogen Inhaler (Portable)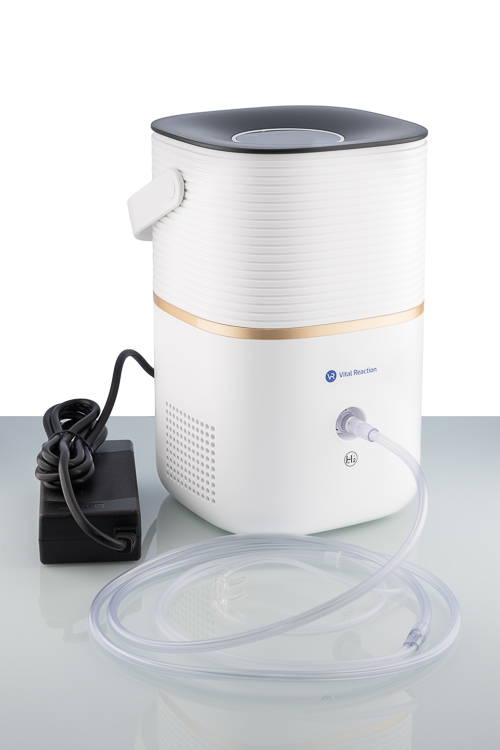 Vital Reaction's MINI INHALER uses cutting-edge medical technology. And produces fresh, high-quality, odorless hydrogen gas people can enjoy anytime day or night.
It starts working instantly and creates a potent dose of therapeutic hydrogen gas within seconds.
And people start noticing the benefits in as little as 20 minutes or less.
Even better…
Studies have shown molecular hydrogen can directly impact almost every part of the body, including...
Rejuvenating tired-looking and sun-damaged facial skin by supporting healthy collagen function...16
Balancing skin tone without harsh chemical peels…17
Improving the appearance of wrinkles by promoting type-I collagen synthesis...18
Increasing metabolism - So the body can burn more calories...19
Improving joint discomfort - So arms and legs flow more freely...20
Energizing the body even before that first sip of coffee by reinvigorating tired mitochondria...21
Rejuvenating every cell in the body - even for people over 40 - and even for those who've been struggling with brain fatigue for years…
That's not including the "peace of mind" of knowing the body is optimizing cognition without pills or medication.
New Column
Just think of all the places you can use this inhaler: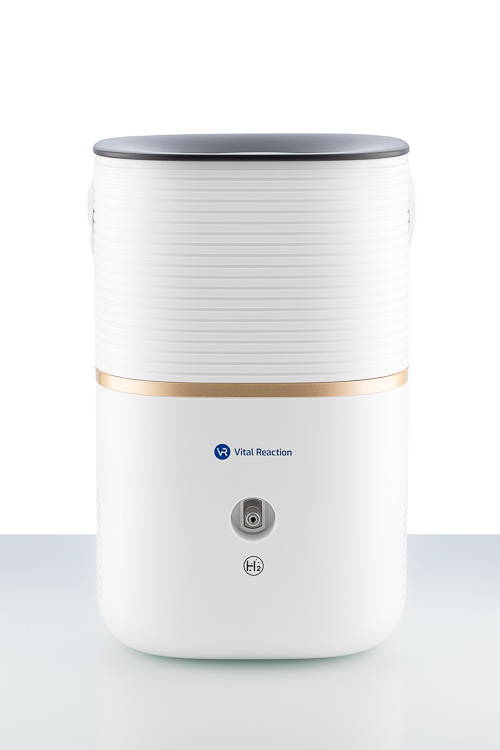 At the office...

During a morning commute...

On vacation…

Traveling in an RV...

Watching TV...

In a relaxing bubble bath…

And many more!

If this seems like a TON of value… You're right.
But it gets even better because our mini hydrogen inhaler now comes with…
[UPDATE!] A Unique Combination of Features - "Peace of Mind" Being the Best One of All!
With the UPDATED Vital Reaction mini hydrogen inhaler, there's never an issue of running out of hydrogen when it's needed most because… It runs 6 full hours on a single charge!
Plus, each machine comes packed with MORE convenience...
Light-weight So It's Never A Burden To Carry
The Vital Reaction mini hydrogen inhaler weighs a measly 4.8 pounds (That's less than a toy-sized chihuahua). This portable size makes it convenient for carrying or traveling.
Built-in Safety Regulator
Yes, Hydrogen gas is flammable. But only at extreme concentrations. The Vital Reaction mini hydrogen inhaler contains a sensor that keeps hydrogen levels in the safe zone.
Each Vital Reaction mini hydrogen inhaler is "drop-tested" to ensure it will last for years. So even if a pesky child knocks it off the counter, it'll still work.
Easy Clean Up - Almost ZERO Maintenance
Put away the sponge and specialty cleaner… the Vital Reaction mini inhaler has a"closed" design that requires no expensive or complicated maintenance (unlike other at-home machines).
99.9996% PURE Molecular Hydrogen
Don't be fooled by the petite size. The updated Vital Reaction mini hydrogen inhaler produces pure hydrogen gas and offers a 120/ML flow rate. This ensures the body becomes fully saturated with molecular hydrogen.
The ease of operating this machine is unbelievable. It literally does all the heavy lifting. By simply pushing one button, it calculates on a second-to-second basis the perfect dose of molecular hydrogen.
Each unit contains a spacious 500ml (17 ounces) storage tank that comfortably holds an entire bottle of water. So you're never at risk of running out of water when you least expect it.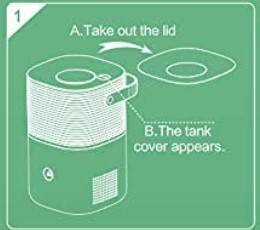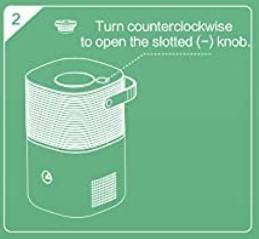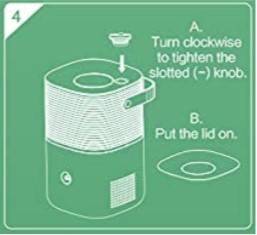 There's not an easier or more convenient way to enjoy fresh molecular hydrogen daily.
And considering it helps the body fight its worst enemy - oxidative stress - without medication...
People are excited to share their intimate experience with hydrogen.
Raving Reviews From Vital Reaction Customers!
"This product always gives me an energy boost after downing 2 dissolved tablets. A bottle a month @ $60 is worth every penny." - Xinia W.
"I received my package of molecular hydrogen tablets about a week ago - they arrived quickly.. The website is thorough and very educational, and I look forward to taking this product." - Marie B.
"I was very skeptical about this technology until I used it at a health conference for an hour straight. Being under-slept and undernourished (I didn't know about the importance of carbohydrates then), breathing hydrogen gas brought me back to life. I felt clear as if I had a full night of sleep." - Matt Blackburn
"I use the 7% Inhaler or the MINI Portable everyday unless I'm traveling by air, and then I also supplement the Inhaler with the H2 Tablets daily, too, and I always take them with me any time I'm away from home or my office. I wouldn't be without my H2 MINI and 7% Inhalers that I use every day." - Susan Smith Jones, PhD.
I've also used the Vital Reaction hydrogen inhaler for years, also on a daily basis. It's great for mental clarity." - Luke Storey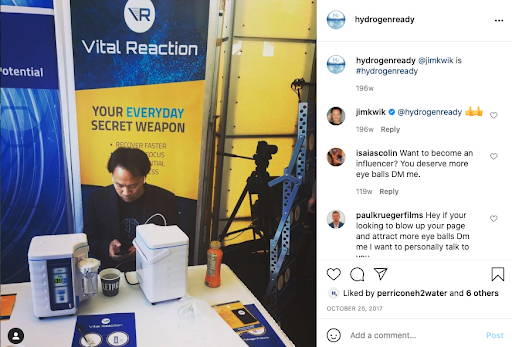 The good news is…
It's NOT going to cost a king's ransom to access an endless supply of therapeutic-grade molecular hydrogen...
We're Offering These Mini Hydrogen Inhalers on a 100% First-Come, First-Served Basis
Until we run out of units, we'd like to help as many people as possible...
And lowering free radicals and oxidative stress with hydrogen will help the body feel its absolute best.
This makes the Vital Reaction mini hydrogen inhaler an optimal solution for helping the body rejuvenate tired cells.
That's why we're offering an introductory price…
And FREE Shipping with each order.
We want to give everyone a reason to feel comfortable about their decision to start using hydrogen daily.
Imagine how reducing oxidative stress is going to improve the body…
YES the brain will fire more efficiently.
YES embarrassing "senior moments" will happen less frequently.
YES it can rejuvenate tired cells (and flood the body with energy), day or night.
But don't forget…
We only have less than 100 units in the warehouse.
And when they're gone. They're gone!
If that happens, we'll be forced to take down this page, and wait the 4-8 long agonizing weeks for the new shipment to arrive.
Unfortunately, this means not everyone wanting to optimize brain performance will be able to get their hands on one.
That's why it's critical to order today... While we can guarantee we have them in stock.
In all fairness…
Optimal Brain Health Should NOT Be "Out of Reach"
Nobody should be denied the thrill of enjoying optimal health and brain performance.
Unfortunately, most Americans don't have $2,000… $5,000… or the $10,000 required for an in-hospital, medical-grade hydrogen machine.
Even one as valuable as the Vital Reaction mini hydrogen inhaler, which fully saturates the entire body with hydrogen…
Destroying the WORST free radicals…
Dramatically lowering oxidative stress…
Rejuvenating tired cells and energy-producing mitochondria…
And activating the body's internal antioxidant system.
And so much more.
Now it's no secret…
Our Competition Is Selling Their Hydrogen Inhalation Machines For Way Too Much
(If they even produce the right concentration of hydrogen)
But don't let that scare you off…
Because even though the Vital Reaction mini hydrogen inhaler is valued at $1995 - Which is a steal considering how long it lasts, how pure hydrogen is, and how convenient it is to use daily.
We want to help as many people enjoy the full body saturation that comes with this mini hydrogen inhaler.
So you can claim yours for only $1195 today -- That's an $800 discount (or 40% off retail)
When you say yes to this offer… We'll ship the entire package right away. This gives everyone the chance to start enjoying the benefits of pure molecular hydrogen within days.
Of course - We understand that slashing the value nearly in half is not the best business decision.
But honestly… our customers deserve a fair deal!
And everyone committed to excellent cognitive performance should be rewarded for their tough decisions.
Besides… wouldn't it feel fantastic to be - THE ONE - who stays mentally sharp as the years go by?
If the answer is crystal clear...
Click the "Add to Cart" button below to claim the next Vital Reaction mini hydrogen inhaler now.
Limited Time Offer:
SAVE $800 On The Vital Reaction:
Mini Hydrogen Inhaler
(While Supplies Last)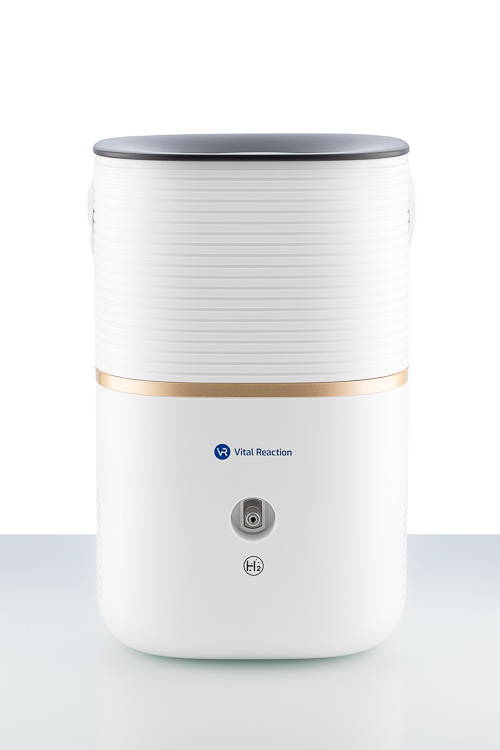 And let's not forget the fact that we're including…
Last but not least, each order includes FREE shipping for the Vital Reaction mini hydrogen inhaler. It's an investment to ship a hydrogen machine this valuable…
But it's what loyal customers deserve. And honestly, we want to do it.
I know that's a TON of value... but we strongly believe "great health" starts at home. And with this special offer, we can sigh a little relief... knowing people have everything they need to optimize their brain health for many years to come.
To finalize your order, click the "Add to Cart" button below right now… And we'll take care of the rest, including adding all the FREE bonuses to your shipment.
Limited Time Offer:
SAVE $800 On The Vital Reaction:
Mini Hydrogen Inhaler
(While Supplies Last)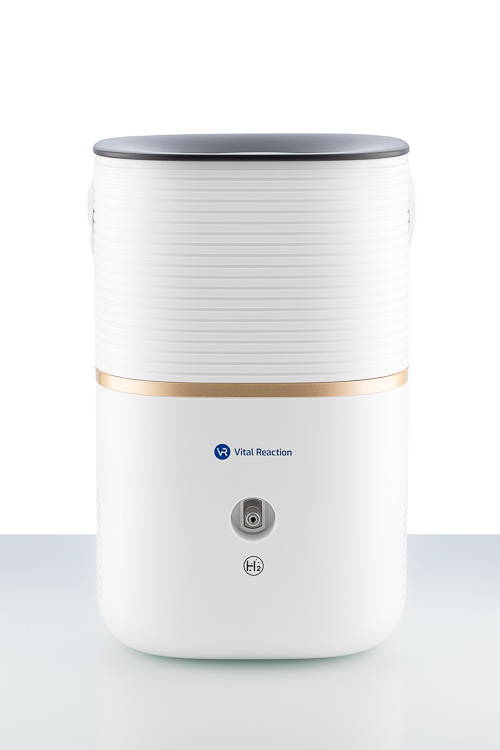 Try It For ONE FULL YEAR, Risk-FREE
(12-month 100% Money Back Guarantee)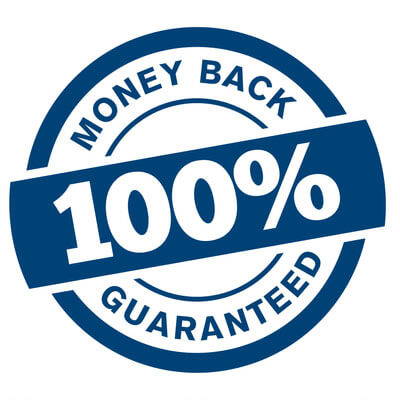 We want to make sure each customer is 100% comfortable and happy with their purchase...
So to remove any risk and to give customers confidence about their buying decisions, we're including a 180-day money-back guarantee, so it's easy to simply 'try' our mini hydrogen inhaler (which is unheard of).
That way, if for any reason you're not excited about the results, you can get back your entire purchase, no questions asked.
The truth is we've seen (and experienced) the transformation that takes place from daily hydrogen use.
So we're confident people will love the results they're about to experience.
But we understand that you might be hesitant about trying something new.
So for those feeling a tad uncertain right now, that's perfectly normal.
And it's for this reason that we're not asking for a full commitment.
In fact, all we are asking for is a simple 'maybe' which lets anyone put our machine through its paces from the comfort of their own home risk-free and see if it's the right fit.
If you're not happy, simply contact our customer support, and they'll take care of you, no questions asked.
So go ahead and click the "Add to Cart" button below while we can still guarantee stock in the warehouse.
Limited Time Offer:
SAVE $800 On The Vital Reaction:
Mini Hydrogen Inhaler
(While Supplies Last)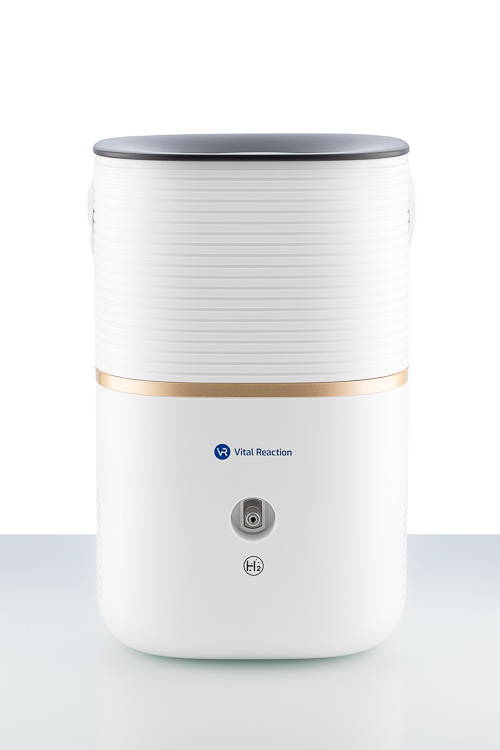 Grab A Mini Hydrogen Inhaler Today!
(and tell your body and soul to keep dancing!)
Try our portable mini hydrogen inhaler for yourself, and if you don't notice less brain fog and faster cognition...
If your skin isn't softer and more youthful-looking...
If cells, organs, limbs, and joints don't feel more rejuvenated with each passing day…
And if you folks don't notice a dramatic change in your cognitive computing, health, and wellbeing, we'll make it right… guaranteed!
So go ahead and pick the best option below.
We look forward to hearing about the results.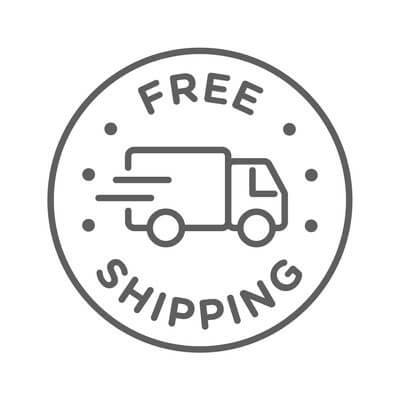 Free Shipping
Every order for the mini hydrogen inhaler comes with free shipping in the contiguous U.S.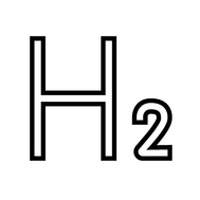 Pure Hydrogen
Never inhale dangerous chemicals because the entire hydrogen conversion process is natural, safe, and chemical-free.
Lightweight and Portable
Weighs only 4.8 pounds, so it's easy to take in the car, to the office, or anywhere else.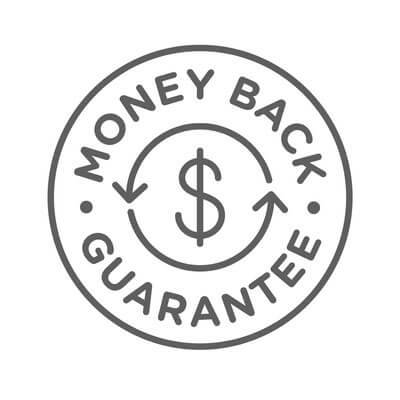 Happiness Guaranteed
If you're not 100% satisfied with our mini hydrogen inhaler, simply contact us for a full refund.
Limited Time Offer:
SAVE $800 On The Vital Reaction:
Mini Hydrogen Inhaler
(While Supplies Last)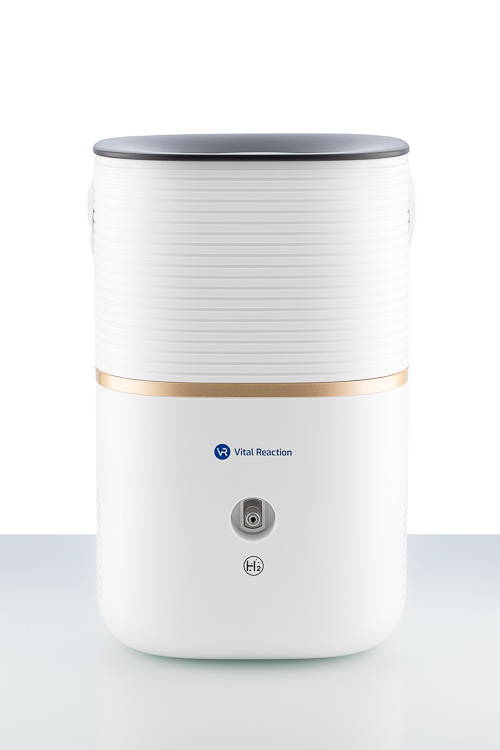 ---
What makes Vital Reaction's Mini Hydrogen Inhaler different?
The mini hydrogen inhaler uses the latest in medical technology to produce fresh hydrogen for optimal health daily.
Remember, inhaled hydrogen is the only method of consumption that helps health enthusiasts experience full saturation.
Inhaled hydrogen awakens sleeping mitochondria, fills the body with an endless source of 'natural' energy, and shortens recovery after a strenuous workout with almost little to no effort.
Our mini hydrogen inhaler is perfect for both men and women in any age group.
And it's for all these reasons that we recommend at least saying 'maybe' to our mini hydrogen inhaler.
Is it safe?
Vital Reaction offers the safest hydrogen inhalation machines on the market. Studies have shown that any machines producing an H2 concentration greater than 10%, pose a risk of serious explosion. Our machines are the only devices on the market that regulate airflow to maintain safe hydrogen gas concentrations, which is well under 10%.
Plus, each inhaler has a sensor in the main water tank to ensure ONLY distilled water is used. This preserves the lifespan of the electrodes. Most competing inhalers lack this feature, causing their machines to break down over time. Most other hydrogen devices also require the use of additives (such as electrolytes) or caustic chemicals (such as lye).
How often should I use my inhaler?
We recommend using your inhaler at least once per day. Feel free to use it more or less frequently and find what feels best for your body. It's impossible to overdose on molecular hydrogen. In studies dating back to the 1940s, no toxic effects have ever been reported even at levels much higher than anything our machines produce.

How long does it take to feel the effects?
People typically start to notice benefits in as little as 20 minutes of inhalation therapy. Some people don't feel anything during the actual inhalation session, which is okay. The body is still getting the benefits of molecular hydrogen therapy. Delayed benefits can include an overall sense of wellness, more energy or focus, supported vision, and quality sleep.
What is the benefit of using the inhaler versus the tablets?
The biggest difference between the tablets and the inhaler is the dosage. The inhalers deliver a much higher dose of pure hydrogen gas. (60 minutes of inhaled hydrogen is the same as taking an entire bottle of our molecular hydrogen tablets.)
And since it's sucked into the lungs, the hydrogen gas can diffuse into the bloodstream more quickly.
How long does the hydrogen stay in the blood after an inhaler session?
We primarily store hydrogen in our liver. So consuming hydrogen about 40-60 minutes after eating a carbohydrate-rich meal will help it stay in the body for about 2 hours. On an empty stomach, that time is reduced to 30 minutes.
Doesn't the body already produce hydrogen gas - Why inhale it?
Yes, the body does produce hydrogen gas in the gut during digestion. But studies have shown that to get the maximum benefit from molecular hydrogen, it should be consumed intermittently, in high concentrations.
What if Inhaled Hydrogen doesn't work for me?
No problem. You have ONE FULL YEAR to decide if Vital Reaction's Mini Hydrogen Inhaler is for you. So if at any time in the next 12 months, if you're not completely satisfied with the results of breathing fresh hydrogen daily, we'll happily refund your entire purchase.
Limited Time Offer:
SAVE $800 On The Vital Reaction:
Mini Hydrogen Inhaler
(While Supplies Last)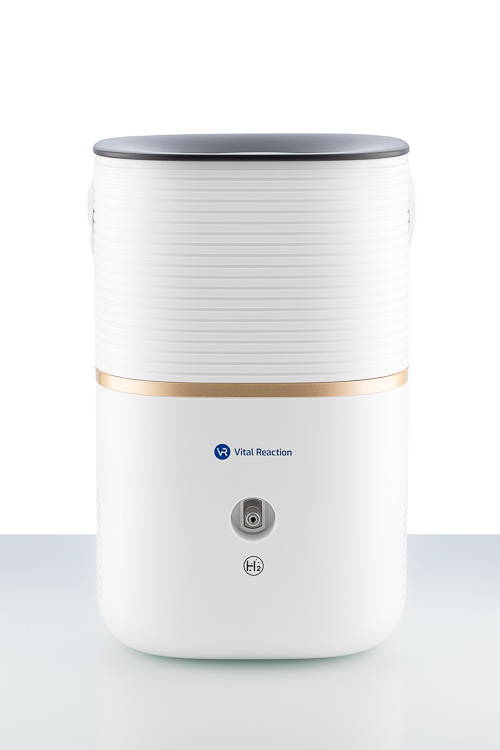 New Column
"These statements have not been evaluated by the FDA. This product is not intended to diagnose, treat or cure any disease. Consult with your healthcare professional before starting any new supplement product."
1 https://www.alz.org/alzheimers-dementia/difference-between-dementia-and-alzheimer-s
2 https://www.alz.org/alzheimers-dementia/what-is-alzheimers/causes-and-risk-factors
3 https://www.alz.org/alzheimers-dementia/what-is-alzheimers/myths
4 https://www.hindawi.com/journals/jnd/2013/319898/
5 https://pubmed.ncbi.nlm.nih.gov/33308112/
6 https://www.hindawi.com/journals/omcl/2020/8384742/
7 https://www.ncbi.nlm.nih.gov/pmc/articles/PMC4699099/
8 https://pubmed.ncbi.nlm.nih.gov/33308112/
9 https://www.hindawi.com/journals/omcl/2012/353152/
10 https://www.hindawi.com/journals/omcl/2012/353152/
11 https://www.hindawi.com/journals/omcl/2012/353152/
12 https://www.ncbi.nlm.nih.gov/pmc/articles/PMC5525017/
13 https://www.ncbi.nlm.nih.gov/pmc/articles/PMC5806445/
14 https://www.hindawi.com/journals/omcl/2020/8384742/
15 https://www.wmagazine.com/story/hydrogen-water-dr-perricone-wellness
16 https://www.sciencedirect.com/science/article/abs/pii/S1011134411002193?via%3Dihub
17 https://www.medgasres.com/article.asp?issn=2045-9912;year=2018;volume=8;issue=3;spage=98;epage=102;aulast=Matei
18 https://www.sciencedirect.com/science/article/abs/pii/S1011134411002193?via%3Dihub
19 https://pubmed.ncbi.nlm.nih.gov/21293445/
20 https://pubmed.ncbi.nlm.nih.gov/23859555/
21 https://pubmed.ncbi.nlm.nih.gov/26488087/